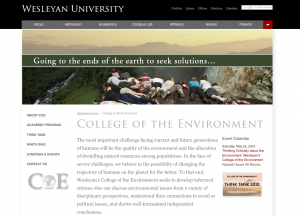 Earth Day 2010 – Wesleyan launched the website for Wesleyan's new College of the Environment program.
A few technical features:
Customized slideshow for the site's homepage
Events from the University Calendar that are part of the CoE are pulled automatically onto the site's homepage
Second-level page headers feature a sets of 5 images every time the page reloads.  On hover, caption text appears below.
Who's Who pages have listings of board members, etc.  Each can be expanded to show a complete bio (and photo).
Slideshows of photos featured in Symposia & Events
All photos and bios can be easily updated by the user through simple "data definition" forms custom made for the site in Cascade.