1) Edit video/index page.

2) Use "+" to add a new item and complete the data definition: 

i) Hover Name: All capital letters, single word – This will be the word shown.

ii) Description: this will be the text revealed on hover.

iii) Thumbnail: Leave blank.
iv) YouTube URL: Leave blank.
v) Background Color: Choose from Blue, Gold, Green, Orange, Purple, Teal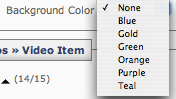 3) Use arrows to move up and down as desire (arranged 1,2,3 first row then 4,5,6 second row, and so on)


4) Click Submit, then Publish.