To upload a PDF to Cascade, first choose the folder that will host the pdf. If one does not exist, create one.
Creating a folder:
Uploading a PDF
Once the folder is created, click on it.
Then select New /Image or file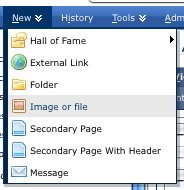 Locate the pdf.
Click on the Submit button.
Your image is now uploaded to the pdf folder in the Cascade system.