To upload a PDF to Cascade, first choose the folder that will host the pdf. If one does not exist, create one.
Creating a folder:
Uploading a PDF
Once the folder is created, click on it.
Then select New /Image or file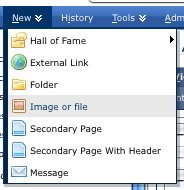 There are two ways to upload your PDF.One:
1. Click on Choose File to locate the PDF to upload.
2. Locate the PDF on your computer.
3. Click on the Submit button.
4. You will see the uploaded PDF listed in your site navigation.
Replacing a PDF
You can upload a new PDF to replace or update a PDF you have previously uploaded to Cascade.
In order to do this you need to:
Select the PDF you want to replace in Cascade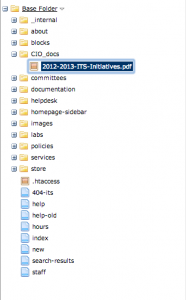 NOTE: You do not need to change the name of the file on your computer or on Cascade, the new PDF will take the name of the old PDF you are replacing that is already on Cascade. You can also do this to replace existing images or word documents.