When you login to Cascade you will notice that there have been a few changes to your site's Dashboard.
The Recycle Bin, although still accessible in the tabs on top of your Dashboard, the link within the Dashboard itself has now moved into the middle section of the Dashboard, under "Manage Content."
Workflows and Messages now appear under the section to the right, "Current Activity".
Stale Content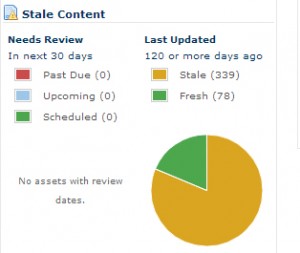 A new feature under the center section, "Manage Content", is a subsection called "Stale Content". This feature shows you which of the content/pages on your site is "Fresh", or pages that have been updated in the past 120 days, or "Stale", pages that were last updated over 120 pages ago.
you can change the amount of days for each

click on either In next 30 days or 120 or more days ago
change the number of days

you can see the files referenced defined in each section

click on any of the items (Past Due, Upcoming, Scheduled, Stale, Fresh)
— or — ckick on the colored sections of the pie chart
see the files that meet that criteria
Many pages in Wesleyan's extended website do not change content frequently, thus many sites and pages may be "Stale". This does not affect the quality of your site or the function of your site in any way. You may choose to disregard this subsection.