Below the Explore Wes section of the homepage are 8 facts.  The first 4 are static, they don't change until a change is made in the component.  The  bottom 4 facts are randomly baked on the page at publish time.  There can be any amount of facts stored in the system to be included in the random facts.
Each fact has 3 sizes of text:

Large: 44
Medium: MAJORS
Small: (Also: 7 minors, 13 interdisciplinary programs, 10 certificates)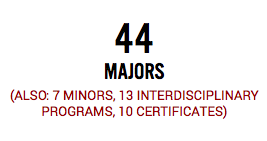 Each fact is linked to related content.
For every fact you will need:
large text
medium text
small text
link to related content
Create External Links
every link used by this component needs to be created outside of the component
do the following for every link
use the dropdown to navigate to Home – Responsive
high light the external-links folder

go to New > External Link

System Name – an abbreviated (all small letters) name for the link
registrar for Registrar's Office
its for Information Technology Services
stuaccount for Student Accounts

Link – the url for this External Link

remember to use the http://
Add a fact to the component.
use the dropdown to navigate to Home – Responsive
go to components > facts
press Edit
you will see the data definition allowing for data input

adding a Static Facts
adding a Random Facts

locate the Random Fact Section – below the Static Fact Section in the component
you can have as many random facts as needed
all facts are available to be displayed (they can not be marked to not show)
Tools for adding, deleting, reordering

enter the Large Text

you may have to adjust the text to fit the space

enter the Medium Text

you may have to adjust the text to fit the space

enter the Small Text

you may have to adjust the text to fit the space

enter the Link

this is where the image and text will link to
use the paper with the magnifying glass icon to select an internal link

go to external-links folder
select the appropriate external link

Submit your changes

Preview your changes

You should preview how the fact displays on all sizes of the responsive page.

you can do a preliminary check of changes within cascade

in Cascade go to Home > Responsive
click on index to see the page in View mode
resize the cascade window to simulate the desktop, tablet and mobile views

to allow others to see the image you can publish the homepage and the images to the Staging Server

go to Home > Responsive
publish the index

go to Base Folder
select the index
go to Publish
be sure to uncheck the Production destination
you only want to publish to the Staging destination

after the images and index have been published to the Staging Server you can view your changes at
http://cascadewww-staging.wesleyan.edu
you can check this url on a desktop by re-sizing the window to simulate other device sizes
-or-
you can use this url on a tablet and/or mobile device

if the text and/or image don't work well at different sizes you may need to upload a new image or change the text
when satisfied you can Publish the index to both destinations (Production and Staging)