This documentation will guide you through the necessary steps to update byline entries on the Wesleyan President page.
Step 1. Navigate to the President section of Cascade

Step 2. Expand the "byline-entries" folder. Bylines are organized into different folders according to their respective year.
Note: A "config" file exists under these folders. More on this in later steps.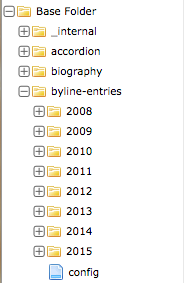 Step 3. Navigate to an existing folder (or create a new one inside "byline-entries" via New > Folder found on the blue horizontal toolbar above) that holds bylines of the year you wish to update. Example here shows bylines of the year 2008.
Step 4. While in the desired folder, create New > Byline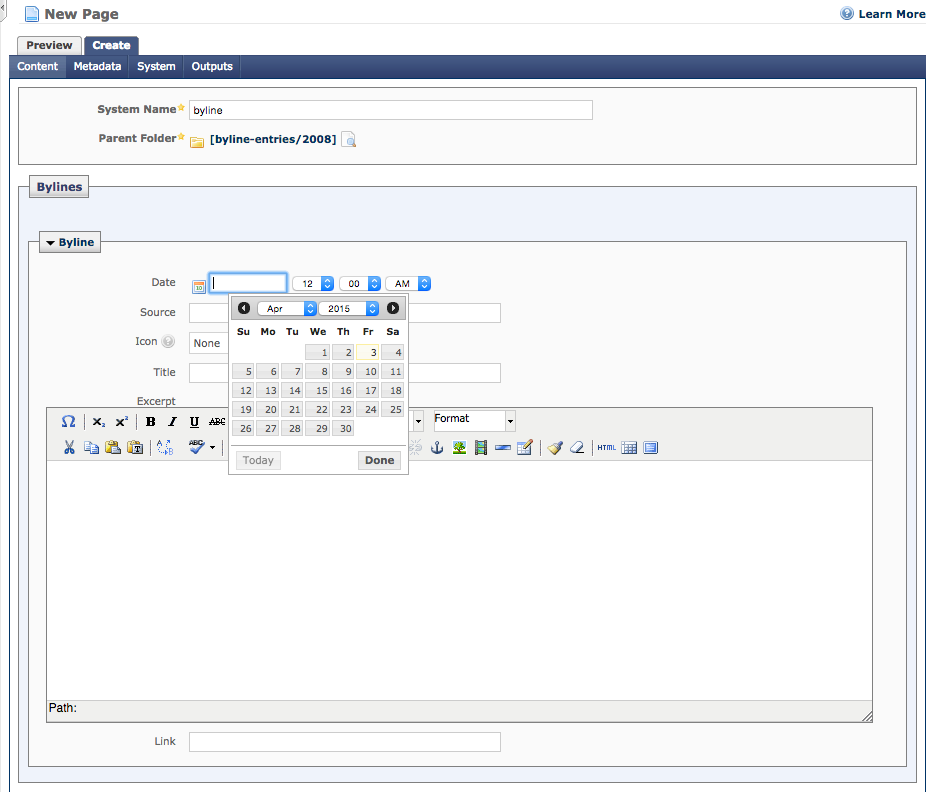 Step 5. Fill in the information:
System name: The name of the byline displayed in Cascade. This should be similar to the name of the article or interview referred to in the byline, only with dashes (-) instead of blank spacing between words.
Date: Date and time of publication for the byline.
Source: Where the information was retrieved from i.e The Huffington Post, The New York Times, etc.
Icon: Choose "Radio" or "TV" if the byline was in a kind of broadcast, "None" for other cases.
Title: Title of the article or interview you wish to enter.
Excerpt: Brief description of the President's byline.
Link: Link to the original web-source.
Step 6. Click "Submit" when you are done editing.
Step 7 (Optional). Change how a post is considered a "new byline." Now on the President page, only bylines within the last 4 months are displayed, and the rest goes to the archive. To change this, edit the "config" file mentioned earlier. In "Expiration," choose from the drop-down menu to set the desired number of months as the "expiration date" for bylines.