To share a video on social media
1. Find the video you want to share by going to Video@Wesleyan.
2. Once you're on the video's page, find the facebook icon which will be to the right of the video.

3. There will be a facebook pop-up. You may be prompted to sign in if you aren't already.
4. At the top left hand corner, there will be a drop down box where you can choose where to post the video. The default option is "Post to your own timeline"

If you wish to post to a specific page you manage, there will be an option for that when you click the drop down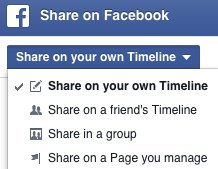 5. There is an option to add a caption and you may do so if you wish.
6. Click "Post to Facebook" and you're done!