The first step is to enter in the live broadcasting events on the Wescast page in Cascade. You can enter in as many events as you like and only two weeks of future events will be displayed by default.
Adding Events to Cascade
To edit events go to http://cascade.wesleyan.edu.
Select WesCast from the dropdown to the right of the logo.
Open the upcoming-webcasts folder from the navigation tree on the left
Select webcasts block
Select edit from the tab menu
Add events by clicking plus sign and enter information
Submit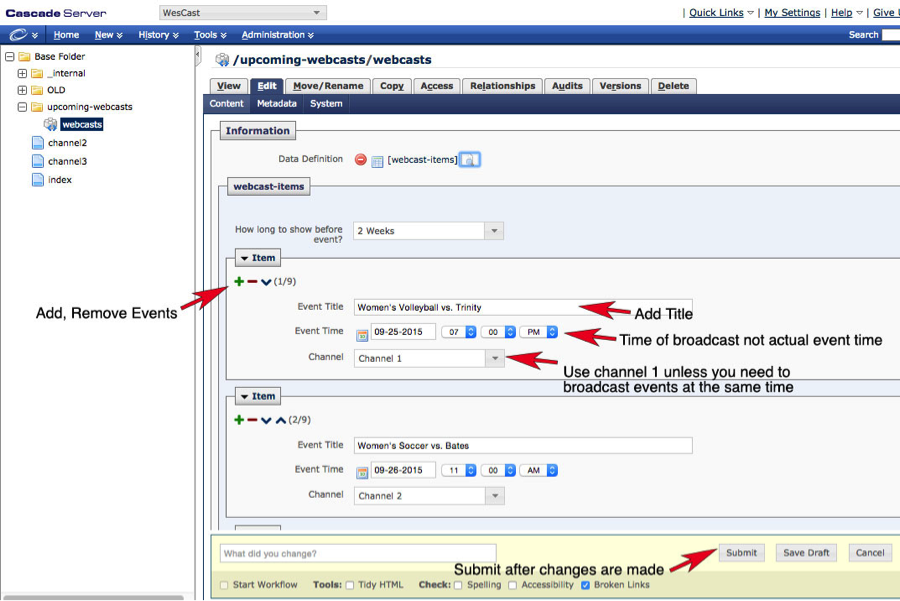 Note: Events submitted are published overnight so you won't see them live until the following day. You can also manually publish index, channel2, and channel3 to see them right away.
Events will be displayed at http://www.wesleyan.edu/wescast. When no events are being broadcasted on a channel page, a message saying the broadcast is unavailable and the next broadcast information will be displayed if one exists. Any event will remain on the left until the night after 24 hours has passed. Once that time has passed it will be automatically removed. A countdown to the event will occur an hour before the event is broadcasted. When the countdown is complete the page will refresh for 15 minutes. This is for people who arrive at the page waiting for the event to occur; otherwise they will not see the stream without manually refreshing. Once the event is complete and the stream is closed they will come back to the screen, which announces the next event if one exists.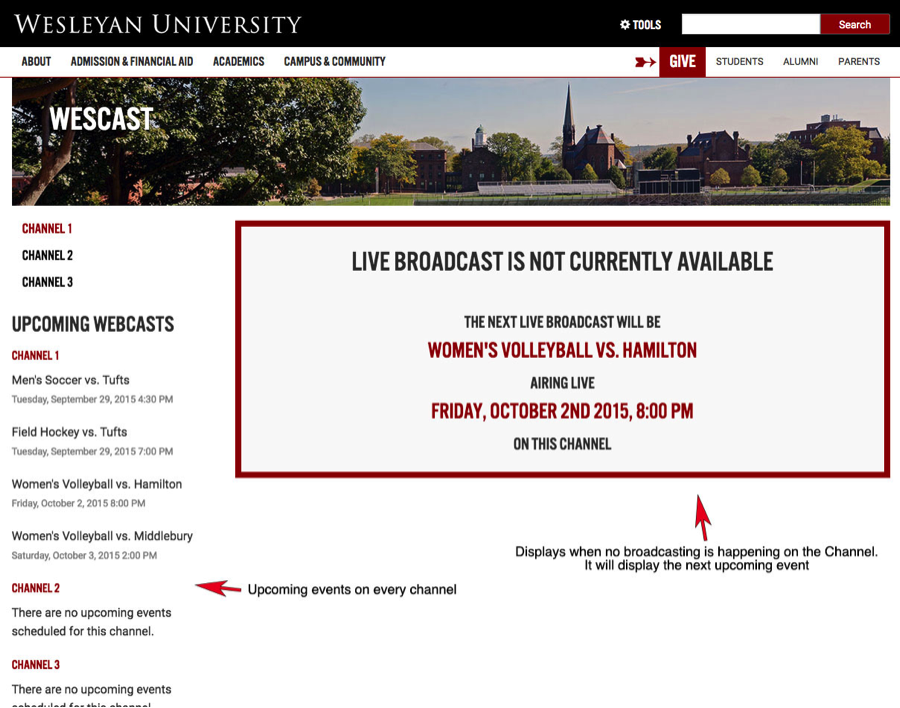 Broadcasting from WireCast
There are 3 channels you can broadcast to. Depending on what channel you use, it will show on the appropriate page. They are:
Channel 1
rtmp://streaming.wesleyan.edu/live
Channel 2
rtmp://streaming.wesleyan.edu/live2
Channel 3
rtmp://streaming.wesleyan.edu/live3
The default stream name in Wirecast is myStream. You can use this name for all channels. If you need help setting up Wirecast for streaming please consult the help section of the application. The setup for channel 1 will look something like the image below. Encoding settings may vary.