Google Goggles has been a dream of mine even before they first announced it was in beta in December 2009.  I have visions of some day walking up to a plant, snapping a picture of a leaf, and having its identity reveal itself like magic on a little black box.  Although it's still in its infancy and is not able to "google" everything just yet, Google Goggles is certainly making its mark and is VERY COOL indeed.
My first few attempts were simple things – it could recognize a Metrocard, it could read "Swingline" on the stapler, it could read the cover of a book.   Cool.  But… taking pictures of those things rather than just typing didn't really save me much time.   It was just a fun novelty.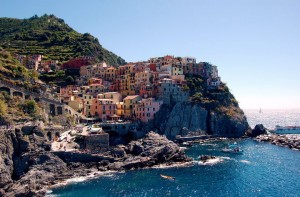 But this past weekend Google Goggles surpassed all of those attempts and really cemented the power of this technology for me.  A friend posted pictures to Facebook from a recent visit to Italy but had no captions about where they were taken…  They were beautiful and I was so curious about where he had been.  So I asked.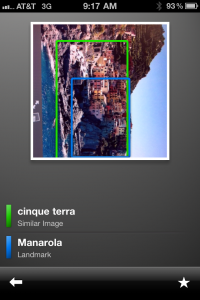 But before he replied, my curiosity led me to try out Google Goggles again.  Sure enough – the answer was instantaneous.  And precisely the same as the one I got the next day from my friend – Manarola in the Cinque Terra region on the northwestern coastline.  WOW.  Magic in the little black box indeed.